In fear of sounding dry in writing this week's challenge outcome, I want to start by saying hello! It's great that you've made it so far into my blog. Writing isn't my strong suit, but there are important things to talk about here. For one, my city is great at writing.
This may come off as strange, and you'll ask, "Yara, but how does a city write? It's not a person!" Oh, let me tell you, it most definitely knows how and I'll show you what I mean.
Let's start off with the thoughts that brought me here and how I even came to this topic: a reflection on this week's guest lecture between Susanna Edwards and Maziar Raein. Something Susanna said really stuck out to me. You can even say it almost slapped me across the face.
"It's really important as a student to have a real broad understanding of how we have got to where we've got to, and to really investigate the qualities and ways of working of these historical figures, to process how we approach design today."
Having been formally educated in Canada, my understanding of design was a purely eurocentric one, with no real knowledge about the roots of design from my own region, the Middle East. While there is a scarcity of publications on the topic, it can be noted that Arab graphic design has strong roots in Islamic geometry and calligraphy. (Sehab. B, Nawar H, 2020) For my research, I wanted to focus particularly on typography. The first question that sprung to mind was how exactly did calligraphy play a role in evolving the Arabic typography we use today? Surely it had a tremendous influence, right?
Arabic calligraphy's role in contemporary graphic design did not come through such a straightforward path. In a conversation between designer Hussein al Azaat and eyen design, Al Azaat states that due to the refusal of calligraphers to historically take on commercial work, the printing press did not become a part of the Arab world until much later. (eyen design, 2017)
The modernization of Arabic type can be traced back to the invention of the Arabic typewriter, whose authorship is contested between Selim Haddad and Philippe Waked. This led the way to what is known as Al Nahda, or the Arab Renaissance, bringing literary publications to the masses rather than just being reserved for the elite. (Kerning Cultures, 2019)
To solve the demand for commercial calligraphy work, Letraset approached the Syrian calligrapher Mahmoud Hawwari to create an Arabic version. It was at that point when the craft started fading as technology began to replace it. (eyen design, 2017)
Today, there is a resurgence in preserving calligraphy and incorporating it more frequently in contemporary settings and applications.
I'll be presenting 3 design practices and 3 design production practices that have helped preserve, evolve, and shape the way Amman writes.
Syntax Design
Syntax is a full-service branding and advertising agency in Amman, Jordan consisting of 15 employees, established in 1998 by Ahmad Humeid.
Syntax describes its motto as "Positive impact by design. Our unique blend of industry insight, design capabilities across different media and disciplines result in a wide range of solutions that can be applied to tackle organizational challenges, grab market potential or launch breakthrough initiatives, products, and services."
In 2009, commissioned by Greater Amman Municipality, the agency took on the task of branding the city of Amman. The branding of Amman also ended up leading to the development of a unique bilingual typeface for the city. German type designer and SYNTAX collaborator Yanone the typeface FF Amman. The typeface has become an integral part of Amman's visual landscape, being used on street signs as well as GAM's communications, including their posters, websites, and advertising material.
eyen design
Photo 1 Credit: Amman Design Week 2017
eyen is a design collective lead by Yousef Abedrabbo and Omar Al-Zo'bi, congregating a network of designers and creative thinkers from different disciplines. "eyen" – as you may have guessed, is Arabic for "eye", "spring" and the first letter of the word "Arabi عربي".
"eyen functions in graphic design and digital innovation backed with strategic frameworks. eyen has experience in branding and its architecture, visual and corporate identities, Arabic type, illustration, and user experiences."
For the 2017 edition of Amman Design Week, eyen design presented Fahres Al-Khattat, a cause-driven nonprofit publication and interactive installation (vending machine) that aims to support the calligraphers in Jordan. Fahres Al-Khattat features a variety of calligraphy works, attributed to their respective calligraphers and paired with contact details, specialties, and services offered. Each publication is enveloped in a yafta (banner) fabric book jacket with hand-written calligraphy of the Arabic alphabet.
Their space on Prince Mohammad Street was designed by Dima Hanna & Noura Salem of Hayyez studio.
Zaid Sbeitan
Zaid is a Jordan architect and a multidisciplinary designer specializing in Arabic typography, currently living and working in Germany. As he is an independent practitioner, I took it upon myself to interview Zaid to learn more about what he does.
Who are you, and what is it that you do?
I am an Arab architect, multidisciplinary designer who has many hobbies and interests in architecture, the art of Arabic letters, Arab design related finds, illustration, and other handcrafted hobbies, and I'm only doing what I love and make me satisfied.
Where do you live and practice?
I am residing in Germany and have worked in many architectural firms in Germany for the past 6 years.
You go by the title "typotect" (great title, by the way!) As a formally trained and practicing architect, how did your interest in typography come about?
Thank you! I've been inspired by the great Lebanese architect and typographer Nasri Khattar who called himself "Typotect" because he was one of the most revolutionary type designers in the last decade. I think as an architect who's interested in typography, I call myself Typotect. Back to your question: I did learn a lot from my uncle in my childhood when I was 6 years old; he was an Arabic teacher and a great calligrapher. I've written hundreds of calligraphy exercise books in different Arabic scripts. My passion for calligraphy and the art of Arabic letters grew considerably stronger through a deeper knowledge of geometry and related topics I've studied in high school and architecture school. I also studied at the University of Art and Design Offenbach am Main in visual communication with an emphasis on typography and type design in 2014, and I'm still learning every day.
Can you tell me more about the project you recently collaborated on with Disco Arab and Ya Habibi Market?
Well, it was actually an attempt to revive the art of Arab cassettes from the 70s to mid-90s and to make a modern item with vintage Arab design. We've worked on many variants based on hand sketches till we chose the favorite design for us.
I see that you're also a big collector of vintage Arabic type! How do you manage to score this stuff?
You need only to manage your time, visit flea markets and know how to find gems, and list your finds immediately to understand information and details about what you collect.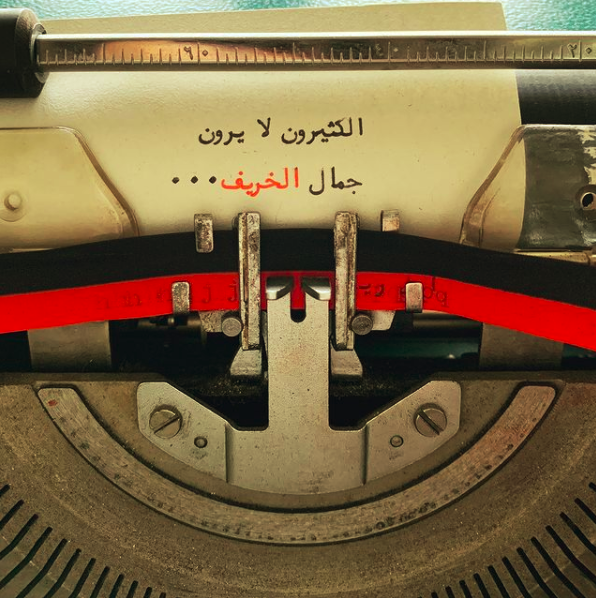 You recently mentioned that you're starting an Arabic-German studio with your wife. What are your plans for it?
Yes, we are still working on that and will release an IG page soon. It will be a bilingual design space, Arabic-German, because my wife is German and studied design. She is also a professional painter. I think we have a big gap in design knowledge, and we will try to fill it with art, design, and probably related handcrafts. Our project could be a bridge between the Arab world and Germany and the other way around.
And last but not least, if you could choose just one tool to design with for the rest of your life, what would it be?
If I could choose one tool to design with for the rest of my life, it would have to be only a sharp pencil. With a pencil, I can illustrate, do calligraphy, and think clearly.
https://www.instagram.com/zaidsbeitan/
Nahda Printing Press
Photo credits: Trendesign Magazine
Nahda is a full-service, mid-sized printing press in Amman, Jordan. They provide services in offset, digital, and security printing. They have been a big supporter of Amman's design scene, often sponsoring or providing pro-bono print services for various events and causes. The photos above are from a time when we featured them in a magazine I worked at as a graphic designer.
"Using the most advanced printing technology, Nahda Printing Press delivers crisp, clear, and visually compelling finished products. Our computer-to-plate technology eliminates color separation errors by sending the complete image to the printing plate in a single step, while our state-of-the-art color densitometers work to test the quality of each plate before printing begins."
Al Nahda Printing Press prides itself on its usage of the latest modern printing
technologies. Their prepress printing floor is equipped with high-end computer-to-plate (CTP) machines with online processors; whereas their press printing floor is equipped with the Heidelberg offset presses in a variety of different sizes. Their post-press floor included a range of automated equipment for publication production, as well as archaic – but fully functioning – equipment for more delicate and niche purposes that Nahda gladly provides.
http://www.nahdapress.com/index.html
Calligraphers in Jordan
With the collective efforts of the eyen design, Hussein al Azaat, and many others, the craft of calligraphy is being kept alive.
Fahres al-Khattat is the most up to date resource on calligraphic services in Jordan. Unfortunately, the publication is not available digitally. The project is expected to be expanded into an online portal. For now, limited information is available.
When friends of mine, Viki and David, visited Amman, they experienced first-hand what a calligrapher studio is like. Most, if not all, traditional calligraphers in Jordan do not have websites and can only be contacted through phone or by email. Or as Viki and David did, through a little urban exploration session and stumbling into an ink-filled studio.
https://salmatuqan.com/Eyen-Design
Dark Room Amman
Although this entry is not a type related production service, they are the first of their kind in Amman, and it's worth noting the efforts they have been making in the local design scene.
Darkroom Amman a project which aims to promote analogue photography. Our main focus is to reintroduce film photography in Amman, and across the region. Darkroom Amman provides film development, printing, and workshops.
They open every day from 12 – 6 and offer one-on-one classes as well as group workshops. They offer drop-off photo services.
https://www.facebook.com/darkroomamman
Thoughts and Conclusions
For this week, the research I had done for the introduction was flimsy and poorly written. It lacked a focus or a question to be answered. I did enjoy the documenting design in my city, however. Having worked at Amman Design Week for two years, there were many Arab designers whose work I'm familiar with that I would love to revisit and explore, and this week gave me that opportunity. It also allowed me to view the designers in a different light and give me a new-found appreciation for the approaches they've taken.
References
eyen design, Alazaat, H. and El Mousa, A. (2017). Fahres Al-Khattat. Amman: Al-Nahda Press.
Kerning Cultures (2019). The Invention of the Arabic Typewriter. [online] Medium. Available at: https://medium.com/@kerningcultures/the-invention-of-the-arabic-typewriter-a6d26e0554a [Accessed 4 Feb. 2021].
Shehab, B. and Nawar, H. (2020). A History of Arab Graphic Design. New York: The American University in Cairo Press.